Welcome to Milestones Jazz Club, since 1996 Lowestoft's premier jazz venue!
Whilst catering to a wide range of styles, Milestones highlights the more modern end of the jazz spectrum in an informal, friendly atmosphere. From small trios to 18-piece big bands, we feature everything from bebop to hard bop, latin to fusion, cool jazz to free jazz. For details of our next gig see below
World class musicians performing in recent years have included Peter King, Don Weller, Ingrid Laubrock, Henry Lowther, Jack Parnell, Jim Mullen, Roger Beaujolais, Polly Gibbons and The Eastern Bloc Big Band.
Milestones is resident at Hotel Hatfield, Esplanade, Lowestoft and opens its doors at 8pm on the first Sunday of every month with an admission price of £7 or £6 concessions - no club membership necessary. For enquiries, information on how to find us or to join our extensive mailing list please click here

*** NEXT GIG: SUNDAY 6 MAY ***


The Andy Nowak Trio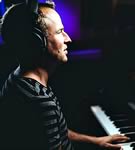 Led by pianist Nowak, this Bristol-based band play a combination of original compositions and striking re-workings of jazz standards with effervescence and flair, drawing on the hard swing of Oscar Peterson, the quasi-classical inventions of Brad Mehldau and the atmospheric ideas of Esbjörn Svensson. Beautiful and unexpected twists and turns are the hallmark of this highly empathic and musically adventurous trio. With Spencer Brown (double bass) and Matt Fisher (drums).
Watch YouTube footage of the trio via their website here and listen to more from the trio's first album here


Admission - £7 / £6 (concession)


"...sparkles impressively...sequence of originals offers an increasingly attractive blend of crystalline serenity and snappy incisiveness"
London Jazz
"Lovely compositions and inventive playing...Watch out for this guy!"
Jason Rebello, pianist
"…both intelligent and highly melodic and features an unfailingly high standard of musicianship throughout…deserves to be widely heard"
The Jazz Mann
"Andy's adventurous Bristol 3 piece has been garnering outstanding reviews...imaginative small group piano jazz"
The Musician magazine



Neil Kane
(1942-2018)

The ever-present drummer on the local jazz scene, from trad to modern and all points in between. A fine player and a lovely person. Already missed.





Cecil Taylor
(1929-2018)


"OK, we're in a recession. Now you can all know what it's like to be jazz musicians".
Saxophonist Gilad Atzmon to the audience at The Bath Festival, 25 May 2008, quoted in The Guardian (31 May 2008)
The refrain will be coming soon: that's the part I like the best and the abrupt way in which it flings itself forward, like a cliff against the sea. For the moment it's the jazz that's playing; there's no melody, only notes, a host of little jolts. They know no rest, an unchanging order gives birth to them and destroys them, without ever giving them time to recover, to exist for themselves. They run, they hurry, they strike me with a sharp blow in passing and are obliterated. I should quite like to hold them back, but I know that if I managed to stop one, nothing would remain between my fingers but a vulgar, doleful sound. I must accept their death; I must even will it; I know of few harsher or stronger impressions.
From 'La Nausée', Jean-Paul Sartre (1938)
"The blues is real, it's not perverted or thought about, it's not a concept. It is a chair, not a design for a chair, or a better chair or a bigger chair or a chair with leather on ... it is the first chair. It is a chair for sitting on, not for looking at or being appreciated. You sit on that music".
John Lennon interviewed by Jann S Wenner, 'Rolling Stone' (1970)