Welcome to Milestones Jazz Club, since 1996 Lowestoft's premier jazz venue!
Whilst catering to a wide range of styles, Milestones highlights the more modern end of the jazz spectrum in an informal, friendly atmosphere. From small trios to 18-piece big bands, we feature everything from bebop to hard bop, latin to fusion, cool jazz to free jazz. For details of our next gig see below
World class musicians performing in recent years have included Peter King, Don Weller, Ingrid Laubrock, Henry Lowther, Jack Parnell, Jim Mullen, Roger Beaujolais, Polly Gibbons and The Eastern Bloc Big Band.
Milestones is resident at Hotel Hatfield, Esplanade, Lowestoft and opens its doors at 8pm on the first Sunday of every month with an admission price of £7 or £6 concessions - no club membership necessary. For enquiries, information on how to find us or to join our extensive mailing list please click here

*** NEXT GIG: SUNDAY 2 OCTOBER ***


Milestones Jazz Club's 20th Anniversary Gig!
Due to ill-health Don Weller will not be appearing at this concert with Alan Barnes. However, we are pleased to announce that Karen Sharp has agreed, at very short notice, to take his place.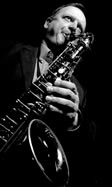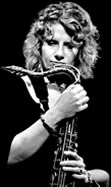 Alan Barnes
and
Karen Sharp
with
The Chris Ingham Trio

To mark its 20th anniversary Milestones brings together two great saxophonists of UK jazz.
The virtuoso playing of Alan Barnes (alto/baritone sax) and Karen Sharp (tenor sax) is characterised by an unfettered mix of commitment, enjoyment and quiet passion equally at home with breakneck bebop, funky hard bop or heartbreaking ballads. A high energy programme of standards given superb support by Chris Ingham (piano), Mick Hutton (double bass) and George Double (drums).
Not to be missed!
Watch YouTube footage of Alan and Karen together here, Alan here and Karen here. Also listen to Alan here.


Admission - £10


"Barnes plays music that was radical 50 years ago - hard, urban post-bop - but he infuses it with so much passion and energy you could believe it was minted on the spot"
The Guardian
"Whatever the instrument, Alan (Barnes) plays it hard and fast and with the sort of inventive flexibility and invention that ensures that he has his own sound and style and could not be easily be confused with another player. And in these days of musical conformity that is quite something"
Jazz Journal
"…remarkable young tenor saxophonist Karen Sharp seems to have the complete kit - warm, singing tone, melodic flair, great sense of swing and an ear for good material"
The Observer
"…confirms what I have already observed, that over the past three or four years, she has steadily - I might almost say stealthily - developed into a major artist on the scene"
Humphrey Lyttleton, BBC Radio 2
"Stylish, big-toned, vaguely in the "Texas" tradition, aptly describes Karen Sharp's tenor playing…Karen swings and I can't say better than that. You should all hear Karen if you appreciate good tenor playing"
Jazz Journal International



Bobby Hutcherson
(1941-2016)







Toots Thielemans
(1922-2016)








Rudy Van Gelder
(1924-2016)



"OK, we're in a recession. Now you can all know what it's like to be jazz musicians".
Saxophonist Gilad Atzmon to the audience at The Bath Festival, 25 May 2008, quoted in The Guardian (31 May 2008)
The refrain will be coming soon: that's the part I like the best and the abrupt way in which it flings itself forward, like a cliff against the sea. For the moment it's the jazz that's playing; there's no melody, only notes, a host of little jolts. They know no rest, an unchanging order gives birth to them and destroys them, without ever giving them time to recover, to exist for themselves. They run, they hurry, they strike me with a sharp blow in passing and are obliterated. I should quite like to hold them back, but I know that if I managed to stop one, nothing would remain between my fingers but a vulgar, doleful sound. I must accept their death; I must even will it; I know of few harsher or stronger impressions.
From 'La Nausée', Jean-Paul Sartre (1938)
"The blues is real, it's not perverted or thought about, it's not a concept. It is a chair, not a design for a chair, or a better chair or a bigger chair or a chair with leather on ... it is the first chair. It is a chair for sitting on, not for looking at or being appreciated. You sit on that music".
John Lennon interviewed by Jann S Wenner, 'Rolling Stone' (1970)